Pet-Express has remained the top service for providing transport services in the U.S. and across the globe. The company relieves your stress by handling all shipping needs such as collection, delivery, and feeding. Animals tend to experience more pressure and stress when left in confinement for too long. The transporter provides enough space so that your pet can stand and move freely without any difficulties. They can ship your pets successfully with a temperature-controlled van and aircraft for all weather seasons.
Factors To Consider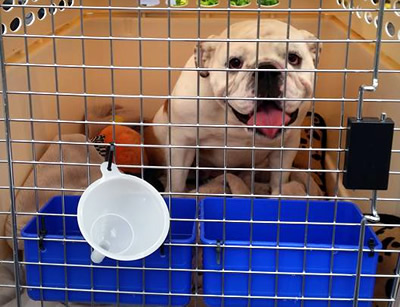 A top-class travel carrier with adequate ventilation and feeding cups gives pets comfort during the transit. Pet measurement helps in determining the size of the carrierl. Pet owners can throw in premium bedding and moisture magnets to act as shock absorbers against mechanical impact during transit. Before the voyage, introduce your pet to the carrier to diminish anxiety and stress. Pet-Express exercises due diligence when selecting the airline. They consider the pet's age, departure or destination places, duration of the total flight, breeds, and seasons. In case of cold weather, your pet will stay in temperature-controlled compartments.
Pet Express Boarding
If you want to board your pet, this transportation service offers accommodations and care when the owner is away. A patchwork of their well-trained staff cares for and attends to your pet's needs. They also administer prescriptions and respect any special needs your pet may have. Their first-class facilities offer a nutritious diet and activities for your companions. The accommodation facility remains clean, sanitized, and deodorized from any foreign substances that may end up in your pet's mouth. Felines and dogs get pre-boarding vaccinations for safety purposes. Pet-Express provides animal-friendly freight services with a human touch. Pet owners can rest assured that their loved one will receive private care and attention when relocating.
Airline Delays And Cancellations
To ensure your pet travels painlessly, Pet-Express responds to unforeseeable conditions such as weather changes. They can change aircraft or adjust the time or date of the journey. The transportation company keeps you updated on any changes. If needed, they can meet boarding requirements for your pet's comfort and well-being before booking a new flight.
Airport Layovers
When your pet cannot get a direct flight, Pet-Express makes arrangements for a comfortable stop or rest. They have boarding facilities that adhere to stringent hygienic standards and veterinary care. On-site pet facilities offer mouth watering foods and water for your pet.
Journey Updates
Pet-Express understands your pet is part of your family, so they will keep you updated on the journey's progress. They have a support staff that supplies you with all the details of your pet's journey. You will receive an email capturing the upcoming trip's details, and they will respond to all questions or concerns.
Customs Clearance For International Transport
Pet-Express moves your pet overseas and fast-tracks custom clearance and forwarding requirements. With a network of international specialists, they ensure a smooth process for your pet's approval. Delays or bureaucratic custom clearance can leave a heavy toll on your pet. Pet-Express will take the shortest space of time and take all necessary measures to have the animal released quickly. They contact you after full compliance when the driver is en route, bringing your pet home. With Pet-Express, you can relocate your pet anywhere across the world by road or air.