A majority of pet owners tend to overlook important issues when transporting their pets oversees. According to TransitionsAbroad.com, transporting a pet to another country can be a daunting task without proper research. The following are some of the important things you should research before making a decision to transport your pet/s oversees.
Potential Transmission Of Diseases
Most countries require that all pets coming in must be vaccinated. The pet owner must get a health certificate from a certified veterinarian stating that their pet is in good health and free of parasites. Other countries require a lengthy quarantine, so adequate research is necessary to find out about these things ahead of time. It's also important to consider the possible health threats to pets overseas.
Transportation
The manner in which pets are transported to the new oversees residency matters a lot. Different airlines have unique restrictions and regulations on the type of pets allowed in the cabin. Moreover, they have special requirements for cages in the cabin and cargo bay. It's a good idea to seek detailed information from one's preferred airline before purchasing a kennel. It's important that the pet gets acquainted with the kennel or container well ahead of the flight. Generally, find a pet-friendly airline.
How Much Will It Cost?
Transporting pets oversees is a fairly costly process. Its therefore advisable for one to get reliable cost estimates before booking a flight. The pet owner may also be required to purchase a microchip transponder and a pet crate for their pet.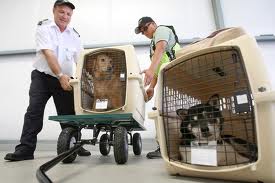 The cost of shipping pets depends on the manner in which it will be transported. Is it in the cabin, baggage or will it be shipped separately as cargo? Taking into account the above-mentioned issues , relocating pet owners can be assured that their pet is transported in a safe and professional manner.